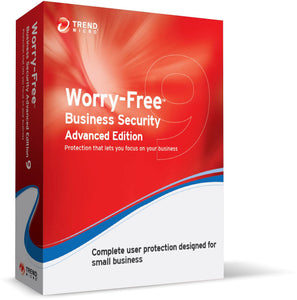 Protect your Small and Medium Business with all-in-one cloud security for users and data. 
Trend Micro make it easy to protect your computers and mobile devices so you can focus on your business. With Cloud App Security, you get enhanced protection without complications.    

Quick setup—add users or devices with a few clicks

All-in-one cloud solution provides endpoint, web security, and email protection in one hassle-free bundle

Automatic updates, zero maintenance, 24x7 support

Protection for your employees anytime, anywhere, on any device

Goes beyond next-generation technologies and protects against the full range of threats. Progressively filters out threats using the most efficient technique for maximum detection without false positives.

Blends signatureless techniques, including machine learning, behavioral analysis, variant protection, census check, application control, and good-file check with file and web reputation.
Available Services

CENTRALIZED MANAGEMENT

Web-based management console

yes

yes

yes

yes

Management server location

Updates and patches

 

Active Directory support

yes

yes

PLATFORMS

Worry-Free Services
Advanced

PCs, laptops, Windows servers

yes

yes

yes

yes

Mac clients (iMacs, MacBooks) & servers

yes

yes

yes

yes

Mobile devices (Android and iOS)

yes

yes

yes

Office 365

yes

SharePoint, OneDrive, Dropbox, box, Google Drive

yes

ANTIVIRUS AND WEB SECURITY

Worry-Free Services
Advanced

Ransomware protection

yes

yes

yes

yes

Defends against viruses, spyware, and other malware

yes

yes

yes

yes

Advanced URL filtering blocks inappropriate websites

yes

yes

yes

yes

Web threat protection stops viruses and threats before they reach your business

yes

yes

yes

yes

Mobile device security

yes

yes

yes

DATA PROTECTION

Worry-Free Services
Advanced

USB device control

yes

yes

yes

yes

Firewall

yes

yes

yes

yes

Data loss prevention (DLP)

yes

yes

MESSAGING SECURITY AND ANTISPAM

Worry-Free Services
Advanced

Stops spam and email-based viruses

(via included Hosted
Email Security)

(via included Hosted
Email Security)

Native Microsoft® Exchange Server threat protection

yes

Advanced targeted attack and spear phishing protection

yes

yes

Data loss prevention (DLP)

yes

yes

Advanced Threat Protection and DLP for Office365

(via included Cloud
App Security)

TECHNICAL SUPPORT

Worry-Free Services
Advanced

24x7 support and access to advanced engineers

yes

yes

yes